Dining
Cuisine options at Whitford House Hotel
2017 Irish Restaurant Awards
We are delighted to have been nominated for the 2017 Irish Restaurant Awards in the category "Best Casual Dining" & Best Gastro Pub Forthside Bistro and "Best Restaurant" for Seasons Restaurant, if you like what we do we would be delighted if you would give us your vote, just click on the photo to vote.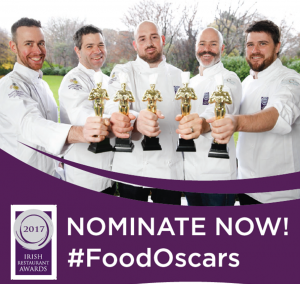 From decadent dining in the award-winning Seasons Restaurant to a more relaxed experience in the awarded Forthside Bar Bistro, food is an integral part of the Whitford House Hotel experience. For guests who seek a pleasant Wexford restaurant Whitford House Hotel guarantees the highest standard of service and cuisine.
Wexford Opera Vintage Tea
Why not indulge in a beautiful assortment of delectable treats including specialty teas, scrumptious cakes, scones and pastries all served on fine vintage china. Our vintage tea mornings are guaranteed to transport you to a magical golden era where service and attention to detail was paramount. Unwind and relax in the beautiful surroundings of the Whitford House Hotel while our superb staff cater to your every whim. Vintage tea are available from 10am until 12 noon and 3pm until 5pm daily. Prebooking is essential.
>> Click here to see the menu and prices.
Awarded "Leinster Great Carvery Hotel 2016" Unilever Foods



As the current Leinster champions we are delighted to announce that we have just been awarded the title "Leinster Great Carvery Hotel of the Year 2016-17" It is such an honour to receive this award two years in a row and we would like to say a huge thank you to everyone that voted for us.